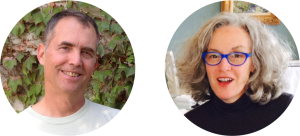 Co-Directors of Etruscan Places since 1995, painters Maddine Insalaco (MFA New York Academy of Art) and Joe Vinson (Ringling School of Art, School of the Museum of Fine Art, Boston) are recognized experts in the field of early open air painting in Italy. They have jointly published articles, curated museum exhibitions, and given lectures on the subject and its influence on modern painting in diverse forums including the Palm Springs Art Museum, the Museum of Arts and Sciences in Macon, Sotheby's and the National Academy of Design as well as art schools and universities.
An intimate knowledge of the historic routes of Italian open air painting has enabled the couple to assist museums in both France and the United States identify relevant collection works. Their work has been exhibited extensively and is held in private collections throughout the USA and Europe.
The couple divides their lives between Italy and New York City.
Hear what students have to say about them.

---
Maddine's Work
All the works above have been executed on location in the landscape. See www.maddineinsalaco.com for studio work.
---
Joe's Work
All these works have been executed on location in the landscape. See www.joevinson.com for studio work.